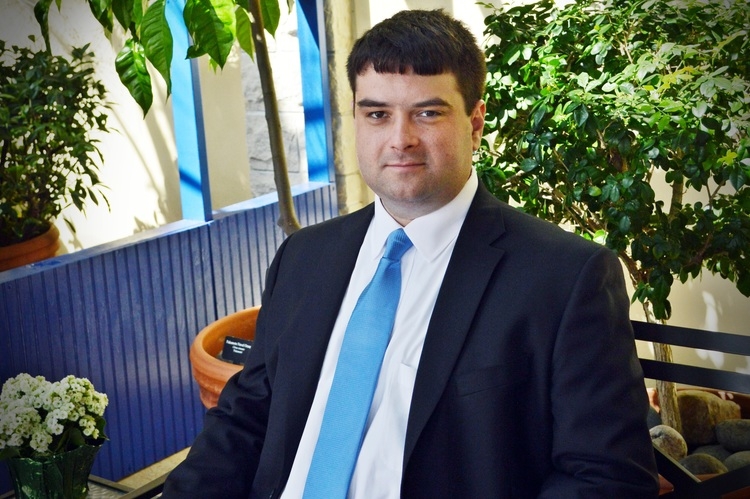 Steve N. Lewis Jr. has enjoyed a diverse musical career as both a conductor and French hornist. Steve is the Music Director of the Medical Arts Symphony of Kansas City and the Midwest Chamber Ensemble where he conducts chamber orchestra concerts and performs chamber music. Lewis has collaborated with such guest artists as pianists Charl Louw, Mary Rose Norell, and Keith Kirchoff, French hornist Brett Hodge, soprano Sarah Tannehill Anderson and countertenor Jay Carter. He has conducted the Missouri Symphony, the Wilson Symphony (NC), Classical Revolution-Kansas City, OvreArts (PA), the Philharmonia of Greater Kansas City, the Medical Arts Symphony of Kansas City and the University of Missouri-Kansas City Conservatory Orchestra and Chamber Orchestra. Steve made his opera debut in 2011 conducting the Kansas City Metro Opera's productions of Gilbert and Sullivan's The Gondoliers and Lehar's The Merry Widow.
As a French hornist Steve has performed at the Stamford International Music Festival (UK) and the Brevard Music Center (NC), as well as concerts with the Black House Collective (MO), Midwest Chamber Ensemble, the University of Missouri-Kansas City Conservatory Orchestras, the Mahlerfest Orchestra (CO) and the Missouri Symphony.
As an educator Steve has lead performances with the Emporia State University Chamber Orchestra and University of Central Missouri Orchestra and taught at the Salvation Army's A-OK Conservatory of Music where he conducted Brass Band, Men's Chorus, and taught music theory. From 2012-2013 Lewis served as conducting fellow of the Kansas City Youth Symphony where he led many rehearsals and coached the brass section. He also has a growing private studio of horn students.
Steve attended high school at the North Carolina School of the Arts where he studied French horn with David Jolley. Steve holds degrees from East Carolina University (BM, Theory/Composition) where he studied French horn with Mary Burroughs and the University of Missouri- Kansas City Conservatory of Music and Dance (MM, Orchestral Conducting) where he studied conducting with Robert Olson and French horn with Ellen Campbell and Martin Hackleman. In 2016 he was awarded the EAMA/Florence Gould Foundation Michael Iovenko Fellowship to study conducting in Paris as part of the European American Musical Alliance at the historic Schola Cantorum. While there Lewis received special mention in both solfege and counterpoint. Steve has attended the South Carolina Conductors Institute (2007) and the International Conductors Institute workshops in Round Rock Texas (2011) and New York (2012). His many arrangements for French horn and other ensembles are published by Cimarron Music.